Shannon Broling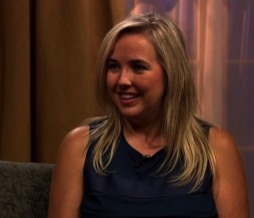 At age 28, Shannon's husband, Jay, was tragically killed in a car accident. In that very moment, her whole world changed. Shannon was left alone to parent her four year old son, two year old daughter, and she was six months pregnant with her third child.
Immediately following the accident, her church community and friends and family pulled together to support her and the children by providing meals and household services. Through this experience, she developed some deep new friendships, but also experienced some old friends pull away. A significant moment for Shannon came the first Thanksgiving after the birth of her third child. Traveling to be with family, while rewarding, was exhausting. That night after tucking in her three little ones, she came to this recognition: "I'll get through this, I'll be O.K.
LIFE AFTER LOSS:
Three years after Jay's death, Shannon prayed that she would someday remarry. Not long after, a friend from church introduced Shannon to her brother, Greg, and after dating five weeks, he proposed. They were married within a few months and were blessed with another child who completed their family. They both know without a doubt that this was all God's plan for them.
"God blessed me with an incredible life, with an incredible man before, but it doesn't end there with these life changes; tragedy and sadness…He brings you again to a spot that you think you'll never get to"
~ Shannon Broling
I met Shannon when her household was brimming with their four children, three in their teens, and a very active young foster child as well. She exudes that calm spirit of a woman who knows all will be well. God's plan is not always easy, but its good. Shannon's journey is proof.
Her favorite verses today are James 1:2-4
"2 – Consider it pure joy, my brothers and sisters, whenever you face trials of many kinds, 3 – because you know that the testing of your faith produces perseverance. 4 – Let perseverance finish its work so that you may be mature and complete, not lacking anything."