Miriam Neff's Story
"May I walk with you?" The soft hazel eyes of a gentleman looked down into mine. It was a warm September afternoon on the campus of Indiana University. Singing Hoosiers rehearsal was over and the baritone soloist was asking to walk with me!
Between the music building and Teter quad, I discovered two things about this tall, quiet man. He was confident. He had the deliberate stride of a person who knew where he was going and why. And he was 'other oriented.' He listened more than he talked. His probing questions, rather than being intrusive showed his interest in you. And so began my journey with Bob Neff. In the fall of 1963 our first date was an afternoon hike in Brown County. We climbed a fire tower and looked out over the incredible colors of autumn in Southern Indiana. Blazing maples, soft neutral oaks, pines and sycamores were the back drop of our conversation. He asked me what I wanted to do with my life. Graduate from IU and travel the world was my vision. He stated that he planned to work at Moody Bible Institute in Chicago as a broadcaster. I had neither been to Chicago nor heard of Moody Bible Institute. There were no broadcasters in the farm country I came from so I knew nothing of that profession. But this would soon change.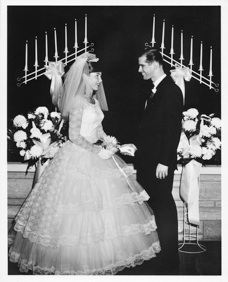 Our journey together lasted 41 years, 2 months, and 21 days. We were married three semesters later, semester break of my sophomore year and one semester before his graduation. We were snowed into our little apartment on our wedding night—which was more than quite nice. We both treasured those days of quiet seclusion. The years to come were anything but quiet and we would be blessed with lots of friends. With his vocal major and broadcasting minor Bob was ready to pursue his calling with his 19 year old bride. We arrived at our Chicago studio apartment in a blue and white 1956 Chevy trailering an Uhaul with our few possessions. Our journey included finishing degrees, moving six times, having children, adopting children, church choirs, lots of hospitality where ever we lived, and traveling to 40 countries together. I was to become an educator—a teacher and counselor in public high schools for 26 years. Yes, a full time working mom. He would simply follow his calling to Moody Bible Institute. But that was not so simple. Bob uniquely combined high passion and high productivity and the vision, intelligence and stamina to make things happen. His career path moved from tape editor to Vice President of Moody Broadcasting—a large calling to be sure.
But let me step back into that first year. While Bob had accepted a full time position with Moody radio, our costs with city living and my full time status as a student at Northwestern University were beyond his income. Northwestern had not yet granted me scholarships so Bob worked part time construction, directed a church choir, and cleaned the apartment building we lived in. "Debt" was not a word in our vocabulary, nor was "vacation." These characteristics of our early marriage at times served us well, but not always.
We made a key decision together on a rare get-away weekend we enjoyed. I had been reading Dale Evans' book about their adopted children. Bob and I both shared a belief in the value of life. It seemed like a common sense conclusion that if God granted us health to parent and jobs to provide for children, we would both have and adopt children. We prayed in that tiny lakeside cottage committing our family to God and went back to the city.
As a result of that decision, our only daughter Valerie was born to us, followed by our adoption of John (read the story here), then the birth of Charles and our adoption of Rob (read the story here). This changed the course of our parenting and the course of the third generation of our family as well. Adoption often brings unique challenges to a family and ours was no exception. However, Bob and I had an unwavering assurance from day one of our adoptions that the precise individual who came into the Neff family was selected by his Creator and ours and was intentionally placed in our family.
The 'small children' stage of our lives together found the six Neff's traveling the United States in a conversion van seeing the sights of our country as well as making multiple stops at many small radio stations. Bob would put on his suit to visit the station. The children and I would hopefully find a nearby park not inhabited by unhappy dogs or mosquitoes. It amazes me that our children remember these van trips as fun and adventuresome. I believe they all suffer from amnesia. Did they forget the intimidating bison standing at the front door of our cottage in Yellowstone? Did they forget our driving off and leaving one child at a roadside fruit stand in Canada? Did they forget the 26 hour almost nonstop trip to get back to Chicago for school's opening day? Our family snapshots show mostly energetic and smiling children and a thin Mom with dark circles under her eyes. But today I treasure every adventure of those days. I especially treasure the presence of the confident, handsome, gentleman with whom I shared the journey.
The 'growing children' season found Bob taking on a new role of soccer coach. Any dad that shows up consistently with two fast sons is quickly drafted into service. I had my first few books published and Bob initiated the satellite initiative in broadcasting and engaged the Federal Communications Commission in rules changes that positively impacted Christian broadcasting.
And a more rocky stage began. We moved and our adolescent children did not adjust positively to the new school and neighborhood. One decided he did not want to be a Neff. Parenting was hard. I cannot honestly describe our life without including this fact. Bob and I struggled to agree on how to parent in difficult circumstances. We both would later speak of our regrets of that season and decisions we wish we had made differently. It has been said that out of misery comes ministry. We developed compassion for parents whose children were struggling. We developed understanding of the morass of the court system. We ached for the incarcerated and those trying to move forward after foolish decisions with the weight of consequences multiplied by hard knocks of life and injustice.
We would have closed memories doors on that season of our life had not good things come out of the painful journey. Bob, an already humble man became marked by a rare humility for a man in his position. While Moody Broadcasting was literally exploding, he deflected any personal credit to his team. He listened intently to his coworkers, prayed for their children. No personal problem was too small or too dirty. It was evident to all who knew him that he had become a humble servant.
In my career as a counselor in a public high school, I offered coffee and sympathy rather than judgment to the exhausted parent whose teen had run away. I started a Hispanic girls group to offer support to an unnoticed and struggling population in our school. Bob was eventually instrumental in the founding of the first Moody affiliate station in Angola, a prison with 85% 'lifers' in Louisiana. We began to pass on the comfort we had received in hard times to others on the journey.
Our nest began to empty, but our lives were filled with new things. Looking back on the separate paths our careers often took us, Bob made the decision (with which I fully concurred) that his international trips would be made with me. He had been receiving and accepting invitations to visit fledgling radio stations typically in countries with few resources. His heart thumped with passion to help, so he traveled, accessed, and acted. It was impossible to come home and describe to me these adventures. It was important for our marriage that these be shared experiences.
This began a season on our journey valuable beyond measure. I began to travel with him. Russia, the Middle East, Eastern Europe, Africa, South America. Our adventures could fill a book. We connected with the incredible folks at HCJB (Heralding Christ Jesus' Birth) an international broadcasting group on whose board Bob would serve. We stayed with believers in small Romanian apartments built by the communist model. We stayed in converted cow barns. In one apartment we could look down on a street that just a decade before had seen blood shed and bodies that could not be removed as the people fought for freedom from oppression.
We met Christians who I am humbled to have shaken their hand. Their dedication to the cause of Christ is pursued relentlessly with small means and little encouragement. And I came to see the largeness of my husband's vision in a way that would be impossible if I had stayed home.
How do you measure the value of the shared experience of swatting mosquitoes during the night with a towel in the converted cow barn and waking up to see that your faces looked like you had the measles? Obviously, we did not swat them all! We could only look at each other and laugh.
How do you measure the value of the shared experience of being invited into a refugee tent in Macedonia for coffee? It is 104 F outside where there is a tiny breeze. We attempted to decline the offer of entering the sweltering tent. Our guide says, "Accept." And we do. The gracious couple had fled their restaurant in Kosovo for survival. Extracting a Bunsen burner type contraption, they prepared strong, hot coffee that caused us to sweat even more profusely. But we heard their incredible story and were humbled to have been invited in. They introduced us to their children and other relatives in the camp. We exited the tent having been exposed to a man and woman who had almost nothing—except courage. Their future was blank and yet full of hope. We did not even notice that our clothes were soaked and clung to our bodies like shrink wrap.
I thought this stage would last a long time. My retirement from public education was nearing and I would have more time to travel with Bob. The little vision I shared with Bob in the fall of 1963 to travel the world was happening. And I loved it.
If you read the first installment of my story, I abandoned writing at the stage where Bob and I were empty nesters, he the Vice President of Moody Broadcasting, serving on two international boards and traveling the world to help fledgling broadcasters. I was a counselor in public high schools and his travel partner adventuring into what we thought would be a long, wonderful stage of discovering God's surprises in our lives and ministries. Shall we pick up the story there?
. . . I thought this stage would last a long time. My retirement from public education was nearing and I would have more time to travel with Bob. The little vision I shared with Bob in the fall of 1963 to travel the world was happening. And I loved it. . . .
We expected that Bob's last season of life would be spent somehow connected to Moody Broadcasting, national broadcasters, and partnering over more of the world. He expected to be running with his grandchildren and painting the homes and apartments of his children. We expected to be traveling together. We had only been to 40 countries. So many more places to go. David and Sharon Keely of HCJB had a plan for us to go to India and no doubt there would have been ways for Bob to partner there.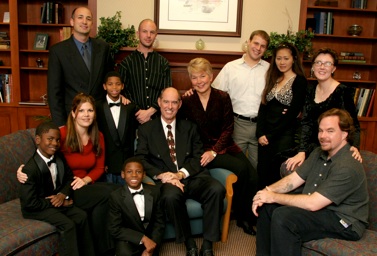 God, however, allowed the unexpected to intervene. With a fall in June of 2003, Bob dislocated his shoulder and embarked on a season of tests to determine what was going on in his body. Eventually he was diagnosed with amyotrophic lateral sclerosis, a wicked disease that has no treatment or cure.
While is would seem that this disease, commonly known as Lou Gehrigs' disease would dictate the last season of his life and limit Bob in fulfilling his calling, this was simply not true. While the disease followed its typical progression, Bob never 'succumbed' to the illness.
He continued to work as long as he could and never missed a grandson's basketball game.
Literally hundreds of people come to our home during that season and left encouraged, The impact of his smile of contentment, his words of strength and faith charged the rooms he entered and the hearts of those there.
Yes, there were moments of humor, times of confusion on my part, and questions.
"How did you get through it," I have been asked.
Let me describe one source of strength. Put simply, I observed Bob being the Bob I knew and loved: rock solid in his faith, reassuring me of his love, and full of gratitude for every moment he lived.
What does faith look like when you've heard that you have an untreatable, incurable disease?
Let me illustrate. Bob's life Bible verse was Proverbs 3: 4 & 6. "Trust in the Lord with all your heart, lean not to your own understanding. In all your ways, acknowledge Him, and He will direct your paths. " (New International Version) I watched him lean into that truth in times of family crisis and tumult in his broadcasting world. What would happen now? He knew that tomorrow would be less comfortable, and he would be less mobile. And that was putting the best spin on the disease. He knew he would ultimately have to step down from his life calling. He knew he would not see his grandsons enter high school, become the adults of sure character which he confidently expected. He would not see his children develop, grow and step into life's challenges and opportunities to serve. What would happen to this rock solid, hope filled man of faith who historically 'got life right?"
I'll tell you. One morning he awoke with a new motto. "Today is the best day of the rest of your life." I'm privileged to have been the first to hear those words, spoken by still the most lovable baritone voice I'll ever hear. Clutching his blue house coat about me (which I wear to this day) I started the coffee wondering what he would be up to next. Rather than focus on the probabilities of his wicked illness, "What will happen to me next? he asked with greater strength and determination than ever, "What good can I do today?" "Who can I encourage today?" "What good does pessimism do? Nothing!"
He told people with a bit of wit and a twinkle in his eye, "God was not napping when I was diagnosed with ALS. He knows and He cares. God will have something good come from this tough journey, or tunnel of chaos as some call it." These were not just public words he said. He lived with that optimism 24/7. I know. I was there.
I can tell you today of a few good things that came from that season of his life.
Our family drew close, moved closer, and one son moved home to help care for Bob.
Colleagues and co-workers encouraged us with a party–a BIG party. Great food, video greetings from around the world, jokes, funny stories, and our grandsons in tuxedos.
Bob's fancy wheelchair supported him, two 10-year-olds and a 9-year-old son across gym floors after every basketball game. (Yes, we had morphine in the backpack. Sometimes if the gyms were especially noisy, I wanted some for myself!)
Family and friends continued to hug Bob when he could not hug them back.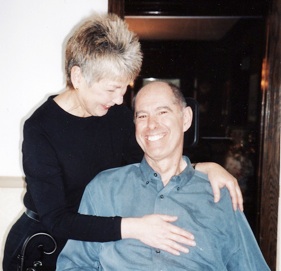 I learned often that my greatest exercise of the day was to run after, pursue full speed, the optimism that came naturally to this man of faith.
Several months have passed since Bob's departure to heaven. I'm relearning some truths I used to know. Their reality before is not sufficient for today.
The truth about comfort: my comfort must come from God, the Reliable, not people.
Isaiah 51:12 "I, even I, am he who comforts you."
The truth about hope: my hope must be anchored firmly to eternity only. Any expectation here on earth is a disappearing vapor at worst and uncertain at best.
Psalm 33:20 We wait in hope for the LORD; he is our help and our shield.
The truth about justice: God's justice ultimately will be fair. Though I don't understand God's ways, I accept them. Though Bob was frustrated with his limitations, he exuded the peace he felt with his personal Savior and planner of his days. His smile was consistent, large, and for real. I persist in believing a Good God will appropriately reward Bob, not just for how he lived, but for how he died.
Psalm 106:3 Blessed are they who maintain justice, who constantly do what is right. Psalm 11:7 For the LORD is righteous, he loves justice; upright men will see his face.
Now about tomorrow, dear reader, I believe we should and can rejoice in today. It is, in fact, God's gift that we woke up breathing. Therefore, He has good things for you, right here, right now. Today can be the best day of the rest of your life.
Psalm 118:24 This is the day the LORD has made; let us rejoice and be glad in it.
You have, no doubt read the first and second installments of my story Part I was from Bob and I meeting as college youngsters until the shock of his illness. I abandoned writing at the stage where Bob and I were empty nesters, he the Vice President of Moody Broadcasting, serving on two international boards and traveling the world to help fledgling broadcasters. I was a counselor in public high schools and his travel partner adventuring into what we thought would be a long, wonderful stage of discovering God's surprises in our lives and ministries. That was not to be.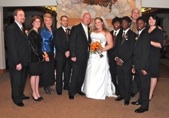 Part II was our incredible journey through ALS , the roller coaster of losses suffered and wisdom gained. I ended that writing with these words. "Now about tomorrow, dear reader, I believe we should and can rejoice in today. It is, in fact, God's gift that we woke up breathing. Therefore, He has good things for you, right here, right now. Today can be the best day of the rest of your life." Little did I know that I would live a life packed with vitality, new adventures, and' starting over' surprises in every aspect of my life.
Shall we pick up the story there?
As a young woman I had a naive understanding of Psalm 139: 13–16. I loved the thought that God had created me with intention, weaving into those cells of potential the capability to step up to every adventure in my life. I loved the assurance that He already knew each day, 'before one of them came to be.' Tests came, and He proved himself. But loosing Bob was huge. My life seemed like a whole lot of gray, a blank slate, a tiny hiding place under a huge rock, almost an out of body experience with time standing still. How could I have written, "Now about tomorrow, dear reader, I believe we should and can rejoice in today. It is, in fact, God's gift that we woke up breathing. Therefore, He has good things for you, right here, right now?"
I can only answer for then, blind faith. For today, real sight. Here's how it happened.
The first year of my singleness, I took 8 trips, 3 of them over seas. I often traveled trying to connect with Bob's memory, visiting places he had been without me. attempting to sense his vigor and his passion again. That resulted in a trip to Burkina Faso, Africa. The radio folks there, knowing I was then a widow, knew also that I was a Bible teacher. They asked if I would speak to widow's groups while I was there. My answer to the opportunity to open the Word is always, "Yes." Day after day I taught hundreds of young hungry widows of God's love for them. On the seven month anniversary, I spent a troubling night, in a lonely hotel room in Ouagadougou wrestling with God. Why weren't there more resources, more support for these women in their loss? It wasn't just about them. It was about me. Why wasn't there more comfort, more support for me, Lord! Why?
I began to sense somewhere within that I was to start something.

It seemed logical to start an organization with the goal that it would be a charitable organization to help widows. My daughter wisely advised that this be a new, independent incorporation. With fragile steps I began the process. God empowered me through an unlikely adventure.
A 'just do it' wake up call came in the Dominican Republic. I was treasuring a week of rest and relaxation after four of the hardest years of my life. It was my first trip alone. While I had expected to rest and read, I found myself signing up for any, and all activities: snorkeling, horseback riding, and learning to sail a catamaran.
Being the only single woman to sign up for solo sailing lessons, my instructor eyed me with little enthusiasm and told me where to plant myself on the canvas. My eager attitude was soon deflated. "You can't learn this. I'll take you for a ride, and we'll go back."
Wrong, I thought.
On my fourth lesson (and after my requested change of instructors), my new instructor said those delightful words: "You can dump me now." I was on my own.
There are no words to describe being alone on that canvas, gripping the rudder, feeling the wind at my back, and racing out into the Atlantic. "Honey, can you see me?" I shouted to the sky. It was as if he answered, "You'll do this and more, Sweetheart, and I'm not surprised."
Back home, after I described my adventure to my family, my grandson asked, "Nana, weren't you afraid?"
"No," was my definite answer. "If I failed and drowned, I'd see God and Grandpa. If I succeeded, I'd have sailed a catamaran—solo. Nana has nothing to lose."
God used this adventure to reveal an inner strength that he'd planted in those cells of conception. He was changing, "Miriam might," to "Miriam can," to "Miriam will."
I am reminded of an old saying, God does not do something through you until He first does something within you.
Right on!
I returned with a mission, a passion, even at times a reckless abandon to just do the next thing. It would be all about widows based on God's heart and His word.
Widow Connection incorporated, became a 501(c)(3), grew this website as a resource for widows, and we did not stop there. Moody Press published From One Widow to Another: Conversations About the New You. We added more resources to the website.
But how do people know the website exists? How do we get the word out? Radio! The direct impact of seeing media through Bob's profession–a thread that God knew I would need–gave me the answer. I canvased his media friends for advice. Their unanimous input was 'free air' was only available for one minute features. And the feature needed to appeal to a broad audience. New Beginnings, was our answer. Our focus was on starting over, whether from financial turmoil, divorce, or loss of any kind. That feature is carried on over 1200 outlets and points many to Widowconnection.com. Opportunities have come to speak at events more varied than I ever imagined. Women's groups, yes. Grief and support groups also. Consulting with wealth management groups has been a delight. They're eager to learn how to better serve us.
God has been busy proving "He has good things for you, right here, right now." You need not look upon me with pity, my friend, even though I'm lonely and miss Bob only on the days I'm breathing. I have a rich, full, rewarding life with no lack of adventure, challenges, and blessings.
Part three would not be complete without me inviting you to glimpse a 'shout out' applauding God for using what I thought was a 'throw away' skill from my past in my new life today, and an "Opps" event in which God had to reign me in, and instruct me in a very important lesson.
A 'Shout Out' applauding God.
As Widow Connection grew and widows and others were blessed, God prompted us to reach out to help other less fortunate widows than ourselves. Who were they and where were they? Instantly, the hungry faces of the young widows flooded my mind and heart. Aids, wars and clan strife, motor and cycle accidents, and abandonment have created a crisis of young moms with no resources for themselves nor their orphan children. With generous gifts from individuals and some companies, we had a plan.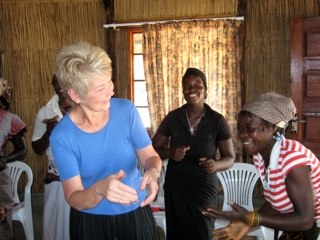 Widow Connection sponsored Africa Sews for the Mukhotweni village in Mozambique. We would deliver 5 treadle machines to be used by 20 widows identified as those most in need. I should have known challenges were ahead when the airport experience in Maputo–arriving alone with no contact information–was a disaster. That nightmare resulted in what I believe was an angel to the rescue. You may doubt or question that. I don't. God showed up in a beyond normal way. Through this harrying experience I believe that if I have a guardian angel, he is weary, has tattered feathers, and is pleading with God for a different assignment. Miriam was requiring too much supervision! This project would require wisdom beyond my own, persistence, and God's definite intervention.
All of that was true. However, how do you describe the look of hope and elation on the face of a young widow, nursing baby on her back, finally 'getting it.' She's gone from treadling backwards and forwards in frustration to making that machine sing–forwards! That look of hope and joy was my reward! I'll briefly summarize the facts.
Goal: a self sustaining, 6 month, $3,000.00 project in which 20 women can realize some income. Fact: more time and more funds would be needed.
What I learned: Welcome to Africa! Returning and talking to people who've done work there, this was only a surprise to me! This is normal in many mission projects, especially in villages.
My throw away skill.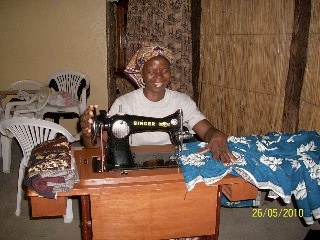 As a child I was taught by Grandma Hatie to sew on our Singer treadle machine. Little did I think that after university training, being a professional counselor, author and speaker, I would ever need this skill again.
In the village, the trainer who was hired had never trained nor taught before. In fact, she went to sleep leaning her head against the thatched wall. Solution: with my teaching and treadle skills, I became the instructor.
With an awesome translator, I conducted a morning and afternoon class each of 10. Yes, they were eager learners. And, yes, they took me to see their homes, (i.e. huts) and their plots of maize. I shared Bible stories of widows before each class and we connected in ways that would have never happened had I not become their teacher.
Proving Psalm 139: 16, God knew I would need to have that little girl skill. He would polish and use it in the Mukhotweni village in Mozambique.
Challenges: three machines had to be returned. (Rebuilt and not working was confused with New) Widows need not work on inferior, frustrating machines. A trainer and fabric purchaser needed to be found to oversee the project. Traveling alone is something I can do, but might not be the ideal.
Oh yes, sleeping in a hut under a mosquito net on very hot nights was a test for me. But looking up into the Southern Hemisphere with star diamonds piercing the complete blackness was beyond description. I never acquired a taste for pumpkin leaves and tsema, but I tried.
My "Opps" adventure
i.e. Focus, Miriam. That's NOT what I want you to do. Signed, God
God's creativity in designing us each uniquely is a precious, tender gift not to be misused. Its not ours to be squandered or claimed as OUR ability, instinct, or strength. Its His.
God wired me up uniquely, as He does each of us, with little fear and lots of initiative which might also be called impulse. These characteristics have been a blessing–mostly. As a jogger, I've run without fear through Moscow, in Tirana, Albania, and across farm land in Romania. I've driven through parts of Chicago lost, places I should not have been. My husband and I did not hesitate to step into the unknown, like adopting children and agreeing to be bus sponsors in Russia to an area we'd never visited, not knowing the language, and responsible for 30 other trusting folks.
No problem. Until Crater Lake, Oregon, summer 2010.
An excellent balance for ministry, which at times is heavy, is to get out and hike. I did that with a group of friends through Oregon. I was unaware of its incredible beauty: acres of ocean side dunes, seascapes both rugged and gentle dotted with light houses, and Crater Lake: the deepest, most blue, and cold lake in the United States. To hike around it is not enough. To boat across it is not enough.
A cliff hanging 30 feet above the water was an opportunity for adventure. I'd jumped 20 feet into the warm waters of Table Rock Lake, Missouri. Why not try this? A few other youthful adventurers were. Why not me? Up I clamored. The sky was beyond beautiful. There are no words to describe the blue of water that draws you, compels you to enter.
I leaped.
Oblivious to diving wisdom, pencil form would have been good. I leaped out into space in an ethereal embrace oF
beauty I thought was reserved only for heaven. It seemed like a long, slow float.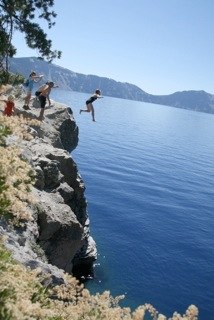 And then I hit. Instantly I knew something was wrong. Pain indeed, and cold–66 degrees entering every pore, but not enough to block the incredible pure blue beyond description! It did seem like a long tread to the surface, something that might have prompted fear in another soul. Eventually I surfaced and was able to swim to where I could clamor out on the rocks.
A once in a life time adventure! But persistent pain did not go away. With the help of Motrin, I finished the week of hiking and went home to heal. When pain doesn't go away, eventually even we stubborn souls see a doctor. Verdict: a burst fractured vertebra with bone collapsed and protruding up against the spinal chord. The difference between being in a wheel chair for the rest of my life? One inch. An unknown? Could I have swam to shore had that bone moved that one inch?
On return trips to the doctor, brace treatment, etc, it seemed everyone in every office knew I was the woman who jumped. I grinned at them sheepishly hoping somehow to be remembered with a grain of intelligence, rather than the woman of impulse.
Its hard to keep a secret when you're wearing a body brace neck to hips. "What happened?" I wished I could answer with something rational, reasonable, "I was in a car accident." 'I fell.' 'Ice patch down hill skiing.'
But those would be lies. So I explain my leap. "You what?" is one response. Laughter and then unsuccessful attempts to suppress it are common. "Cool" my wrestling grandsons friends exclaim. That puts me in a class by myself as a Nana.
I share this story for a purpose beyond humiliating myself. God taught me an important lesson through this. Canceling a trip to Guatemala and postponing going to Africa were disappointing. In my conversations with God He clarified to me that He had plans for me and things yet to accomplish that were His agenda. He also clarified that cliff leaping was impulse for me at this stage gone awry. No more. Live life with a bit more care and respect for the only body He will provide. Fun, swimming and hiking, "Yes!" Cliff jumping "No."
What's ahead? If hindsight is any indication, my future and the future of this ministry will be full of growth and surprises. Even at this stage of life, God is taking Scripture I pondered in my youth, fleshing out the meaning, and making it alive within me.
Psalm 139
13 For you created my inmost being; you knit me together in my mother's womb. 14 I praise you because I am fearfully and wonderfully made; your works are wonderful, I know that full well. 15 My frame was not hidden from you when I was made in the secret place, when I was woven together in the depths of the earth. 16 Your eyes saw my unformed body; all the days ordained for me were written in your book before one of them came to be.
I can with confidence report what I said ending Part II.
Now about tomorrow, dear reader, I believe we should and can rejoice in today. It is, in fact, God's gift that we woke up breathing. Therefore, He has good things for you, right here, right now. Today can be the best day of the rest of your life.