Nancy Horton
Nancy Horton was my delightful hostess in Tyler Texas. Greeting me in the airport, we were dressed alike! A kindred spirit for sure! Fellow educators, our conversation was non stop as we had dinner with widow friends, drove to events, and she added a bonus tour of the azalea gardens of Tyler before our airport good bye. Though her story here focuses on Christmas, her truths and insights are year round wisdom and comfort.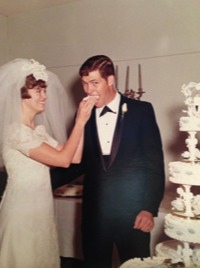 Christmas Celebration
NEVER THE SAME, BUT BLESSED NEVERTHELESS
I spent 36 Christmases with my husband before he died in November 2003 at the age of 55, one month and one day after the diagnosis of incurable brain cancer. Now I spend each Christmas as a widow.
Christmas as a widow is vastly different. Since my husband's death came in November, my first Christmas without him was a blur, avoiding all traditions. I had the blessing of God-given numbness. After the first year, God wanted me to grow so He allowed the numbness to disappear. In my weakness, I was forced to ask, 'Lord, how do I do this?' He answered by giving me strength in a daily dose, never enough to feel I could do without Him, but enough to function until He gave me more strength for hope, faith, and prayer.
Before I became a widow, I just didn't know! Widowhood happened to other women. I thought that it was just about missing someone you loved. I didn't know it meant that everything changed in your earthly world. Grief does not follow a timeline of one, two or three years as many think. Holidays and special occasions bring waves of grief as if the person has just died, regardless of how long it's been.
Where are the blessings in the midst of grief? The blessings are found in children, grandchildren and friends who give you opportunities to pray, reminiscence, love and laugh with them. And of course the the best blessing of all is that the reason for celebration doesn't change … the celebration of Christ's birth. Because, "Today … there has been born for you a Savior, who is Christ the Lord." Luke 2:11 NASB
If you have a widow in your family or friendship circle, pray that she will feel the joy intended at this time of the year; If you are a widow, reach out to others who may need support at this time, and look for the joy that is ours through Jesus Christ, our Lord and Savior.