LaTanya Law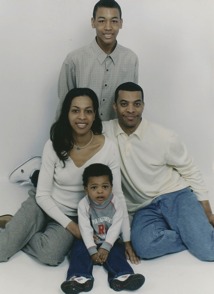 LaTanya's husband, Demetrius, was always healthy and showed no signs of illness. One day he began suffering from an excruciating headache, which led to a call to 911. The examination determined that Demetrius had brain cancer.
LaTanya promptly placed a sign on their front door that stated, "God is performing a miracle here, if you doubt, stay out!" He fought hard for three years before making his journey to Heaven. Their two sons were ages 14 and 4 when they lost their dad. LaTanya's father stepped in to help with the boys and be the male influence that they had lost.

I met LaTanya when she came to my home for a widows event. She brought another widow who was new on her journey. It was evident that LaTanya knew just what this new widow needed. They shared their stories and their real challenges. Every one of us in the room understood. Meeting them, I sensed such spiritual strength and closeness in their unique journey. Between trips to the coffee pot and our brunch table laden with fresh fruit, croissant sandwiches, and homemade breads, we shared stories and those crazy funny things that happen when tragedy and real life collide. We moved from tears of sympathy to tears of humor and happiness. Yes, our humor might seem strange to others, but laughter rolls down, and we're the richer for it.
LIFE AFTER LOSS:
Years later, LaTanya was introduced to Michael, a dad of three boys. They're marrying soon, making her the mother of five boys. They are all very excited to begin a new life together as one big family. She signs her emails with these words, "I'm on a pursuit of awesomeness. Excellence is the bare minimum." And there's another stirring in LaTanya's heart. She's praying about Africa.
Who comforts us in all our troubles, so that we can comfort those in any trouble, with the comfort we ourselves receive from God. ~ II Corinthians 1:4