Kerri Hartwick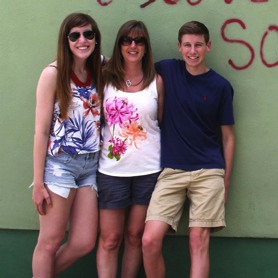 I have not met Kerri personally, however, I think her story is important to us all. What a woman of courage! This is taken and used with permission from From Stories of Faith and Courage from the Home Front by Karen Whiting and Jocelyn Green. Copyright © 2012, God & Country Press, an imprint of AMG Publishers. All rights reserved.)
Preparation
Kerri Hartwick, wife of Chief Warrant Officer Michael Hartwick, Iraq 2005–2006
Michael and Kerri Hartwick were high school sweethearts. They married during their senior year of college and then decided together that he would join the military.
"His dream was always to fly," said Kerri. "He loved airplanes, anything that flew. I was supportive."
Mike served in Bosnia, Kosovo, Albania and Iraq as an Apache helicopter pilot for the Army. In November 2005, one month before he would deploy a second time to Iraq, he arranged a "powwow" with Kerri.
"We each took a day off of work, and the kids were in school," remembered Kerri. "He'd been deployed before and knew the risk factors. We should have done this before; maybe this was a God thing. But he made sure we sat down together and talked about everything we needed to discuss in case he would not return—from finances, to who he wanted to be pallbearers, who he wanted to speak at the funeral, and where he wanted to be buried. We talked about where the kids and I would live, his thoughts on me remarrying. We discussed everything. It was hard. He put all our finances and insurance information in a binder for me. I didn't know then what a blessing that would turn out to be for me."
When Mike deployed, Kerri prayed the same prayer each night: "Lord, if you bring Mike home safely I will praise you for keeping him safe. If you have other plans for him, you need to prepare my heart because I won't be able to do it alone."
"I didn't have a premonition," she said. "But God put that in my heart that I needed to pray that way."
In speaking to their children, seven-year-old Tanner and ten-year-old Haley, Mike never promised he wouldn't get hurt. He said he'd do his best to stay safe.
"Many are the plans in a man's heart, but it is the Lord's purpose that prevails" (Proverbs 19:21).
Prayer: Lord, prepare my heart for whatever you have in store for me.
April 2, 2006
Kerri Hartwick, wife of Chief Warrant Officer Michael Hartwick, Iraq 2005–2006
Sunday, April 2, 2006, dawned clear and bright in Belton, Texas. Kerri and the kids were looking forward to the battalion Easter egg hunt planned for that afternoon when the phone rang.
"Kerri, have you heard anything about an Apache helicopter crash?" It was Mike's stepdad in Missouri.
"No, I haven't," Kerri told him. "If I hear anything, I'll let you know."
Kerri and the kids went to the egg hunt as planned, then to church before heading home. It was 5:45 p.m. when they pulled in the driveway. While Kerri and Tanner stayed outside chatting with some neighbors, Haley ran into the house.
"Mom," she said, rushing back outside. "There's a message on the answering machine that said, 'Kerri I'm sorry to hear about your family. I'm on my way down.'"
Instantly, Kerri knew. Pulling her neighbor aside, she said, "Can you take the kids into your house and shut the blinds?"
"Why?"
"I'll explain later. Please take the kids."
Once Kerri's neighbor returned from getting the children settled in the house, she inquired again about what was going on.
"Was there a car in front of my house today?" Kerri asked her.
"Yes."
"There was a helicopter crash and Mike has been killed."
Five minutes later, the notification team was in Kerri's home, confirming what she already knew: Mike had been killed in action the day before. She fell to her knees, in shock.
"One thing I had prayed was: 'Lord, if Mike gets killed, I pray my children won't be here when I hear it. I don't want them to see me or to remember the men in the green suits.' Because God answered that prayer, I was able to walk over to my friend's house after I gained my composure and tell Haley in a loving way what happened to her dad. Then Tanner came in, Haley held him and I told him, too. Even though it was the worst day of my life, I said 'God is so good because He answered my prayers.'"
"But as for me, it is good to be near God. I have made the Sovereign Lord my refuge; I will tell of all your deeds" (Psalm 73:28).
Prayer: Lord, help me see your goodness even when my vision is clouded with pain.
Untouchable Soul
Kerri Hartwick, wife of Chief Warrant Officer Michael Hartwick, Iraq 2005–2006
The next day, Kerri received a mysterious phone call from the detachment.
"Please do not watch TV or go on the Internet," the officer told her. "We need to come out and see you."
Kerri agreed. What could this possibly be about? She thought. I wonder if they screwed everything up and it's not even Mike who was killed.
When the detachment came, they asked her to sit down.
"I'm sorry to tell you that there's a terrorist-created video of them pulling someone from a helicopter," they said. "It's all over the Internet and television." The footage was so unclear that viewers could not identify the face or even if the man was wearing an American uniform. Still, there was a chance it could have been Mike.
They searched her face, bracing themselves for any number of emotional reaction, but they weren't expecting Kerri's response.
She laughed. "Is that it?" she asked.
"Yes maam, it is."
"Mike's soul has already gone to heaven," said Kerri. "I don't agree with what they're doing, but if that was Mike, it was just his body. They're not bothering him any little bit."
When they were gone, Kerri mused, Funny—I was up all night searching the Internet and never saw that video. Still, she banned her kids from the TV and Internet for two weeks to make sure they wouldn't see it either.
Kerri and the wife of the other co-pilot who had been killed agreed that they would not say anything about it, not acknowledge it on TV during any interviews. "If you respond to that video, you would give glory to what is evil," explained Kerri. "Glory is to go to God." The two wives asked TV stations to pull the footage from their programs, and they agreed.
To this day, Kerri has not seen the video and the kids are not aware of it, either. "God protected me from seeing those images, and I'm not going to go looking for them," she said.
"Finally, brothers, whatever is true, whatever is noble, whatever is right, whatever is pure, whatever is lovely, whatever is admirable—if anything is excellent or praiseworthy—think about such things" (Philippians 4:8).
Prayer: Lord, help me dwell on your goodness rather than the world's evil.
The Funeral
Kerri Hartwick, wife of Chief Warrant Officer Michael Hartwick, Iraq 2005–2006
As Mike's funeral date approached, Kerri had more on her mind than just honoring her husband's life. She had three specific prayer requests on her heart, which she shared via a mass email: 1) safety for the hundreds of people traveling, some from around the globe; 2) good weather to allow for the Apache helicopter flyover as planned; and 3) that if a group of war-protestors crashed the funeral as they had planned, that they would either go home quietly or that Haley and Tanner would feel more support from the attendees than anti-war sentiment from the protestors.
God answered.
The day of the funeral, April 14, was a beautiful day, and everyone arrived safely, including family, friends, 198 patriot guards, and emergency vehicles from five counties who participated to pay tribute to Mike's service. The protesters came, saw how many supporters there were, and decided to go home.
"God tested my faith with the threat of the protestors, but ended up providing," Kerri said. "I could have gotten ugly and argued about it on the Internet, but God took care of it in his own way."
When Kerri, Tanner, and Haley arrived back home in Texas after the funeral, another blessing was waiting for them. As Kerri pulled the mail from the mailbox, a glimpse of familiar handwriting made her heart stop and the tears begin to fall. Stuck between bills and catalogs were two postcards addressed to Tanner and Haley, written by their dad on April 1, 2006—the day he was killed.
"On Saturday, April 1, we had been hoping for a call from Mike but didn't get one," said Kerri. "The kids wondered why he didn't call. With these postcards I can show them that their Dad was thinking about them the day he died. God is so good. I just bawled when I pulled these postcards from the mail. How could someone question whether God was present?"
"Yet the Lord longs to be gracious to you, he rises to show you compassion. For the Lord is a God of justice. Blessed are all who wait for him!" (Isaiah 30:18)
Prayer: Lord, thank you for showering us with blessings that demonstrate your compassion for us.
Reaching Out Kerri Hartwick, wife of Chief Warrant Officer Michael Hartwick, Iraq 2005–2006
Five months later, Mike's good friend prepared to deploy. Kerri promised to take care of his wife if anything happened to him.
On Feb. 2, 2007, he made the ultimate sacrifice with his life while serving in Iraq. Now it was Kerri's turn to reach out and provide the support that she once needed; she spent two weeks with the new widow.
"I had to watch her struggle with who should be pallbearers, where she should bury him, whether she should have the funeral on post or in a church," said Kerri. "God showed me how blessed I was to be able to know I honored Mike in the way he wanted me to."
During the first year after Mike's death, Kerri spoke on a monthly basis to casualty assistance officers, sharing her story of how her first casualty assistance officer mishandled her case, but her second casualty officer went above and beyond to help her. In the local community, she helps civilians learn how to help military families now that parents were being deployed every other year.
Currently, Kerri volunteers and speaks to soldiers about how to prepare families in the face of tragedy. She is also the military ministry chairperson for her church, First Baptist in Belton, Texas. She keeps track of all military families in church and checks on them to see how they're doing and where they are in the deployment cycle. She's coordinates Military Family Nights Out, during which the church provides dinner and child care for children so the parents can get out. She also works with Veterans Fellowships, where soldiers and veterans of all ages get together. Both ministries are open to any active duty families in the community.
"People ask me how I can still be in the military community, serving them," says Kerri. "After fourteen years in, you can't just leave. This is my family."
"Praise be to the God and Father of our Lord Jesus Christ, the Father of compassion and the God of all comfort, who comforts us in all our troubles, so that we can comfort those in any trouble with the comfort we ourselves have received from God" (2 Corinthians 1:3–4).
Prayer: Lord, show me where you want me to minister using the experiences and insights you've given me.