Joanie Woodall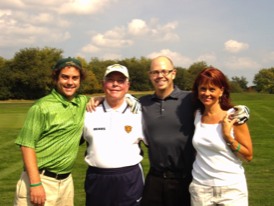 MY JOURNEY WITH GOD FROM MOURNING TO JOY
My name is Joanie Woodall. I would like to share my story on how God has truly turned my mourning to joy. Jeremiah 31:13 My dear husband Joe and I were married for 28 years. We have two wonderful sons Brian and Joey, and I also have two beautiful step daughters and four amazing grandchildren. In February of 2009 God provided for me to go on my first mission's trip to Africa. Joe was on cancer meds at the time and could not travel, but was my biggest supporter back home God changed my heart forever on that trip, when I visited a children's school in the slums of Kibera, Kenya.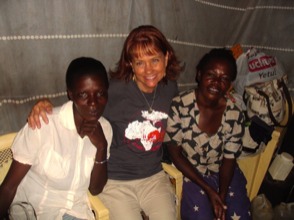 I came home, leaving part of my heart in Kibera and knowing that one day I would return. In reflection, I can see God's hand in all that He had planned for me. In October of that same year, God called Joe home, after fighting a courageous 3 year battle with kidney cancer. My grief journey began… I had lost the love of my life and my best friend.
God provided a grief recovery program for me at my church, and during the next few years, I felt His comfort and healing, and presence like I never had before. My oldest son Brian was living in California, and through his dad's cancer journey, had come to know Jesus and was doing well, Joey however was having a real tough time with his grief, his dad was his best friend… Then in March of 2012 after Joey had been to California to help his brother with a move, he came home and announced to me that he was moving out to be with his brother.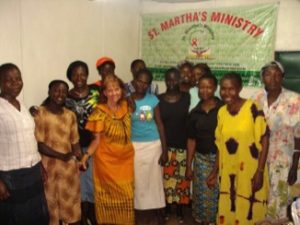 And so I said "OK Lord if you are providing for my children to be together, I am ready to go where You have called me, to share the comfort I have received from You with others." Last April I put my house on the market figuring in this market I would have a year or two to prepare. God had other ideas, and my house sold in 3 days!! (For cash!) By June I had sold all of my possessions to go and follow Jesus. The journey has been amazing.
I returned to Kenya this past winter, and am connected with an amazing ministry with 22 widows from the slums of Kibera. I am returning in October as a full time missionary to serve alongside these ladies, and love them as Jesus loved us. John 15:12 I am working on bringing the grief recovery program I was leading back home to the widows, to share God's comfort with them. I must share that the strength and perseverance of these women have truly inspired me. When I am serving God in Kibera, I am filled with joy, which I know can only come from our Father in heaven. I pray that each one of you, who must go through the journey of mourning, will come through with God's help, and have your joy return. Many Blessings, Joanie