Starting Over Financially CD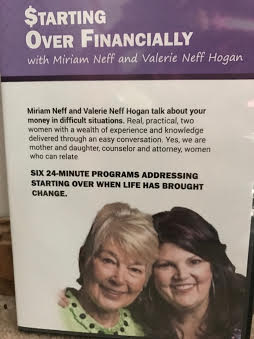 $tarting Over Financially
$10
Miriam Neff and Valerie Neff Hogan talk about money. Money when you're in a difficult situation. Life got bumpy and money became a dreaded word. That's when you need help most. With clear, practical, conversational content Miriam and daughter Valerie are here to help.
Whether job loss, divorce, death of a spouse, foreclosure, or health issues, your pay check has frozen, or shrunk, but your bills have not.
You may not have the time or mental energy to tackle what seems like an overwhelming thing–getting a handle on your money. Let us help you simplify the process and walk with you.
Miriam Neff is the Founder and President of Widow Connection, is the author of 11 books, the host of New Beginnings, a radio program, and is a frequent guest on Chris Fabry Live on Moody Broadcasting. She speaks nationally and internationally of Widow's issues and navigating Unwanted Life Change. She has 23 years professional counseling experience, and is the widow of Robert Neff, a mother and a grandmother.
Valerie Neff Hogan works with Widow Connection, Orchard Ministry Development and the Christian Law Association; she holds a law degree and the Certified Financial Planner designation. Since 2000 Valerie has served at church leading groups and individuals toward good stewardship with Christian Financial Concepts, Crown Financial, then Financial Peace University. She loves to assist people overcome financial obstacles to get more freedom, be more generous, and do more ministry. She is the daughter of Bob and Miriam Neff.
Content: Six 24 minute lessons
1. Money in Troubled Times
2. Addressing Debt, Addressing Surplus
3. Emotions: Depleting & Defeating or Energizing & Empowering
4. Building Wealth and Worth
5. Taking Care of Stuff
5. Six 'Nevers' for Financial Sanity
Cost: $10.00