One Widow To Another: The Connection That Counts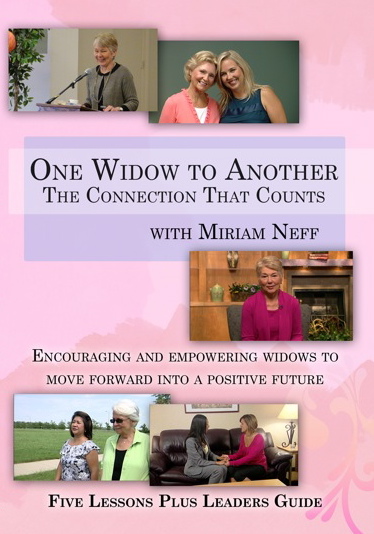 $59 for DVDs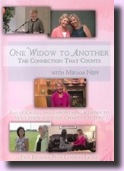 $7 for Journal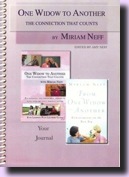 Five inspiring and informative lessons for you, your group, church or organization on DVD.
Encouraging and empowering widows to move forward into a positive future.
Addressing changes in friendships family, and financial wisdom.
Practical help with emotions like grief and fear.
Coordinated with From One Widow to Another by Miriam Neff (Moody Press)
Miriam, upon becoming a widow, discovered an unmet need for encouragement and resources. We need help sorting out changes. Friendships, family connections, and finances bring surprises. Our emotions are intense. Each lesson provides valuable insights based on her counseling background, and experience starting over. With spiritual insights and a touch of humor, this series will help you.
These five lessons can be used in groups in your organization, church or in the personal comfort of your home. The Leaders Guide helps you get started.
Leaders Guide:
How to lead and facilitate a group.
How widows can help each other.
How churches can help widows become all God wants us to be.
DVD I
Lesson #1. The Connection That Counts: How we grow stronger, and then help others.
DVD II
Lesson #2. Emotions and Finding the Help We Need. Creating Your Board of Directors
Lesson #3. Money. You can master your finances.
DVD III
Lesson #4. Relationships: Friends change. Family trees shake. Relationships may be fewer and more precious.
Lesson #5. Moving Forward. Your New Beginning may be better than you can imagine.