Kisii, Nyamarambe, Kenya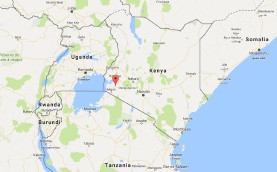 Beatrice Nyangarsa began contacting me in 2014 seeing our website and our mission of serving widows.  She has been serving widows and orphans in her church.  Her first request was simply for biblical resources.  Teaching tools are good.
Her words. "I always over view your video and listening to the wonderful testimonies that you gave and the testimonies from others that shared with you on the video about their life experience and challenges they each got. God is God to hear their testimonies. This had helped me share with the ladies here about life situation that others have passed through."
But we could do more.  After careful planning with the help of Esther Hall, a former teaching partner of mine at Willow Creek Community Church, we were able to approve a tailor training program for 14 widows.  They were thrilled!  We rejoice!
Identifying a trainer, Eunice, setting up a business plan, determining a schedule, though our mission is simple, to train each widow in a economically self sustaining skill, creating and implementing a successful plan is a challenge.
After months of planning, imagine the excitement when this truck pulled up to the church.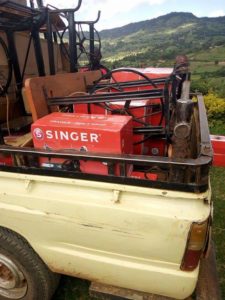 She has been a widow for 10 years and has six children. In her words:
My life started growing so hard for me to handle since no one I had to speak with me in my community. Since I was married very young and don't have the opportunity to receive an education. I was forced to leave their home. With this desperate situations I was forced into a life of prostitution and begging on the streets. One time, I heard Sis. Beatrice Nyangarisa doing soul winning with her fellow Women near the next of my door, I hurried to listen of her and I was very touched with God's Word. I accepted Jesus in my life and Beatrice accepted me into Fundamental Widows care program. I now get some Bible study training and I have peace in my heart. I weekly attend Bible Study program and Church services and other church activities. God is good ere. I only pray God to provide away that can help us do some businesses. I pray God to provide a sponsor who can come into my life in prayer. Please pray for me. God bless.
Now the widows work begins.