Breman Kuntananse, Ghana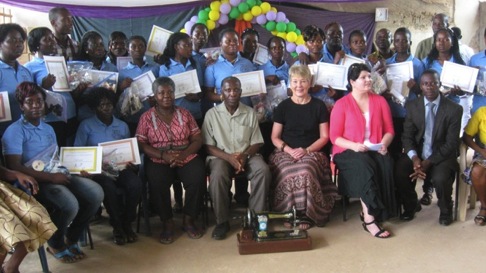 Partner: Compassion International: 20
April 18, 2013 Balloon arches and fabric banners decorating the graduation platform greeted us as we arrived to see 20 new tailor graduates receive their certificates and graduation machines. Seated across from the graduates were their dependents, children whose lives will be forever changed because their Moms now have a skill.
What do these tailors do with their new skill?
Widow Connection does not bring products back to sell. Their future is in the micro business they accomplish in their location. These tailors will make African clothing in their neighborhoods to sell or even barter to meet their needs.
They will also make school uniforms, which is an income producing task. Some mend for money or barter. If there are nearby markets, they may make bags or aprons. Our model is always that they be self sufficient in their location. We leave knowing we leave with them something that no one can take away. Their valuable skill of tailoring.
In June 2011, a survey of caregivers of Compassion-assisted children indicated a strong desire to acquire employable skills to help them better provide for their families. Approximately 60 percent preferred sewing and dressmaking to any other trade.
Once funded, the church will form a committee to oversee this activity and contract with a professional seamstress to conduct training for 20 caregivers of 20 Compassion-assisted children. According to an agreed upon schedule of the group, participants will meet three days a week for one year to learn and develop sewing and design as a livelihood.
Addressing one challenge of the previous pilot, meals will be served as part of the training so that participants do not need to leave to find food, thereby increasing attendance and efficiency. A professional mechanic will be hired for regular maintenance and repairs of the machines during the training to help ensure their longevity.
After successfully completing the program, each participant will receive a certificate of achievement in sewing, $60 in seed capita, and a sewing machine to launch her newly acquired skills into a business. The original machines, equipment and any remaining supplies will be retained at the facility so that subsequent trainings may be offered in the future.
---
Creating with Trim
Skills Developed
Getting Started
Children of the Graduates
School Uniform