Tirana, Albania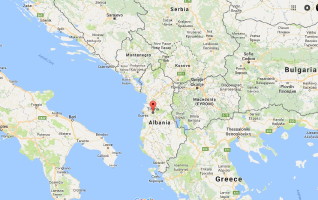 I love serving with creative partners like Enkelejda!  After our successful Bathore tailoring project we wondered how we could serve widows who aren't inclined to learn sewing.  Why not baking?
The result, our current project training widows in the skill of baking. The goal of this pilot is that each learn to make 200 different types of deserts and salty foods.  In addition to baking, they would learn catering skills.
This is proving to be quite an undertaking as the basics of measuring ingredients needed to be learned first.  I continue to be impressed with how eagerly the widows learn in each of our projects.  Enkelejda converted two rooms of the radio compound and equipped them with a commercial oven, counter space and shelving.  The women are picked up by the Radio 7 van and brought to the compound daily.  Basics of cleanliness standards are part of the curriculum.
By the time I visited the project they had successfully mastered cup cake making and had sold 200 to a hotel for Easter.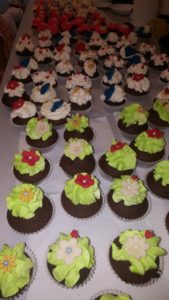 I sampled the most delicious tart I have ever eaten.  They are learning!  Given the learning curve for this pilot, we have extended the training time.  One challenge we face is that each graduate will need to find employment or partner with a larger group. Producing quantity baked goods from their personal kitchen (most live in quite modest spaces) is not realistic.  Mom and Pop bakeries abound in Tirana, as do restaurants and hotels.  I met with a hotel owner, a single woman who is also a believer.  She is interested in accepting them as paid interns to bake and also learn other restaurant skills, such as salad making. We will walk with them through this process.
Consider Elona's story.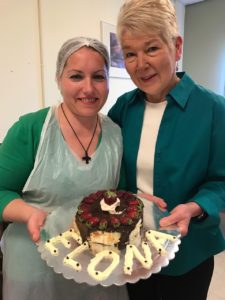 She has been widowed 10 years and lives alone with her 2 children.  The first 8 years she lived with her parents in a home of 8 persons.  It simply was unworkable leading to unwise decisions.  She contacted a counselor at Radio 7 and began to get good advice addressing some of her challenges as a young widow.  This opportunity will help her find a better paying job.  Perhaps of greater importance is the change in Elona. She entered the project with little hope of a better future.  I met a vibrant woman, willing to converse and extremely grateful for the opportunity.  She is now a woman who knows that God has not forgotten her, and in fact, loves her greatly.
I've learned that neighbors and relatives look on seeing our projects and their impact on each life.  These widows daily get on the Radio 7 van to return home after training.  They carry the yummies they created that day.  The children in Elona's neighborhood watch for the van and show up for samples.  My prayer:  may God be seen and get all glory.  After all, its His love that compels us.